Yakety Yak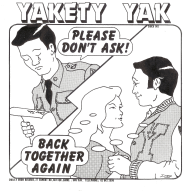 Yakety Yak started out in 1969 when Drew Spikes (bass) and Paul Blackaby (guitar) decided to make a total change in their current band's musical direction and turn it into a fifties style rock'n'roll band.
The singer, drummer and keyboard player had different ideas so replacements were drafted in. Drew and Paul's very first band together used to have a singer called Mick Smith. By 1969 he was heavily into the local bikers' scene so it seemed natural to call him back in. A young piano player called Rick was recruited, but after two gigs was replaced by another local biker, Steve Taylor. The drummer's stool was taken by Bob Tully.
These five christened themselves 'Rock Machine' and started to play the local youth clubs and any rock 'n' roll venue that would take them. The music was all hard rocking Vincent, Berry, Domino, Cochran and Little Richard songs, largely lifted from the Wild Angels' first two albums. Gradually a few harmonies crept in, especially once the guys discovered what Sha Na Na were up to.
After about a year the band was in the doldrums, but relaunched itself under the name Yakety Yak. A second singer was drafted in to add depth to the stage show. His name was John Tilt, but was promptly rechristened Johnny Valentino.
He was a much better singer and Mick Smith soon decided to call it a day. At various stages in the next two years Bob was replaced on the drums by Steve Day and then by Kenny Ryalls; Mick Smith was superceded by Alan 'Big Al' Jones on rhythm guitar and vocals; a tenor sax was added, played by 'Butch' Evarts; Steve Taylor was eventually replaced by Mick Tobias on the piano.
The emphasis of the band was very much on doo-wop with Johnny taking most of the leads, Paul adding tenor and falsetto harmonies, Drew taking baritone or second tenor parts and Big Al singing bass.
This seven piece lineup was the one that recorded an album on Dart Records in 1974. It was comprised mainly of classic doo-wop songs. The album was released early the following year as they did a massive amount of gigging up and down the country, with a month long trip to Denmark thrown in. A second trip to the studios resulted in another album's worth of recording, but it was subsequently shelved and has now disappeared.
Drew left the band in that summer, whereupon Mick Tobias took over bass. There were several other temporary members in the next eighteen months, known variously as 'the drunk' or 'the madman'. During that time Dart released a single, 'Keep On', the flip of which was the band's version of the Coasters song, Yakety Yak, taken off the album. The band started to do some radio work and toured as part of a Marty Wilde package. Big Al stayed behind in Denmark on a subsequent tour. Mick Tobias disappeared from sight, whereupon Drew returned after his stint with Rocking Pneumonia. The band was in the doldrums once more and decided to call a halt in 1977.
It wasn't long before it resurfaced with John, Drew and Paul and two new members. Akram Abu Hamdan, a Jordanian architectural student took over on drums. Kit Packham came in to play both tenor and alto sax. All five took their share of vocal duties and produced a fine set of doo-wop songs interlaced with a couple of swing numbers from the Louis Jordan repertoire.
The next trip to the studio produced a single, 'Run Baby Run' with a cover of the Cadillac's 'My Girlfriend' on the flip. It came out on Real Kool Records and achieved some airplay. The band started to do trips to Holland on a fairly regular basis.
Akram left to return to Jordan as he finished his studies and his place was taken by Wilgar Campbell, who had originally tasted fame as drummer for Rory Gallagher. The band recorded again, this time for Chickaboom Records. The songs were 'Please Don't Ask' b/w 'Back Together Again', both originals from Drew's pen.
Yakety Yak