The Tiger Sharks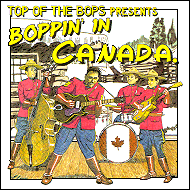 The Tiger Sharks
The Tiger Sharks formed in Guelph, Ontario in 1988. A three piece band including Brent Freeman on lead guitar and vocal, Derek Winkler on upright bass and Bill Bruder on percussion. The Tiger Sharks at one time had as members Dave Fearnley on acoustic guitar and vocals, and Mike Jessop on rythym guitar.
The Tiger Sharks entertain a number of serious fans as well as people who enjoy the flavour of boppin' roots rock music. When the Sharks are on stage there's scarcely a still foot to be found. Regular appearances on the Queen Street circuit in Toronto, paticipation in the 1990 Molson Rockabilly Festival at Toronto's Harbourfront and several appearances on CityTV's Breakfast Television have all aided in the evolution of the band's popularity, not to mention the band's tight, solid sound.
In February of 1991, The Tiger Sharks travelled to Memphis, Tenessee to record their first album at the legendary Sun Studio. The band returned to Memphis in early September of 1991 to complete their original tracks. Here, on their own original 'I'd rather be with you', they out-cat The Stray Cats.
Tiger Sharks
index