The RedHot Trio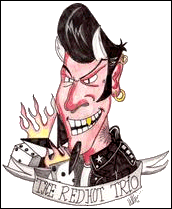 "Not your usual bowling shirt Rockabilly!" - Roy Williams (Nervous Records)

The RedHot Trio are one of Bristol's top Rockabilly/Rock 'n' Roll bands. They have been performing their wild, exciting and ever-changing show for over five years and have rocked events such as:

The Invisible Circus (800 capacity!)
The Plymouth Tattoo Convention (2000!)
The Hemsby Rock 'n' Roll Weekender!
The Shakedown Rock 'n' Roll Weekender

Support slots have included:
Slim Jim Phantom of 'The Stray Cats' on his 2009 tour
Steve Whitehouse of 'Frenzy'
Mark Harman of 'Restless'.

The RedHot Trio can adapt to any venue or audience. They play everything from classic Rock 'n' Roll for the jivers and strollers to hard-hitting Rockabilly for the boppers and the rockers.
They are Jimmy Lee, Vocals; stand up drums, Henry Evans, vocals and guitar and Damien Kerrigan, doghouse bass and vocals. They perform a mixture of covers and originals that are sure to get the crowd jumping and jiving all night long!
You can be sure of a wild night with this band. You can Bop, Jive and come alive with the dead devil sounds of The RedHot Trio!
To make a booking or enquiry about gigs/recordings, just get in touch….

EMAIL: redhottrio@hotmail.com
Myspace: www.myspace.com/redhottrio

Play the RedHot Trio radio promo ad.

The first album here is their original demo that they only sold at their gigs.
RedHot Trio
| | |
| --- | --- |
| Heart breaking mama (Reece) * | Take me back baby (Bart/Steele) Peter Maurice Music |
| Pride and joy (Vaughan) Bug Music | Jumpin' with the wild cats (Honeychurch) * |
| Hotrod girl (Reece) * | Riot in cell block no.9 (Leiber/Stoller) Sony/ATV Music |
| Rock the joint (Crafton/Keene/Bagby) EMI Mills Music Ltd | Waiting in school (Burnette) EMI United Partnership |
| Run n hide (Reece) * | You decide (Reece) * |
| | | | |
| --- | --- | --- | --- |
| Dog house (Reece) * | | Down to Hell (Reece) * | |
| Run 'n' hide (Reece) * | | Guns of Afghanistan (Reece) * | |
| Death of me (Reece) * | | Spanish sun (Honeychurch) * | |
| Back stab (Reece) * | | Back stab - 'unplugged' mix (Reece) * | |
| Too many thoughts (Reece) * | | Just another day (Reece) * | |
| Black dog (Reece) * | | Working man's blues (Reece) * | |
| Hanging on the telephone (Lee) Chrysalis Music | | Crazy 'bout you baby (Reece) * | |
| One too many whiskeys (Reece) * | | | |
| | |
| --- | --- |
| Devil woman (Reece) * | Whiskey train (Reece) * |
| Unspoken words (Reece) * | Lovestruck fool (Reece) * |
| Writer's block (Reece) * | Day by day (Reece) * |
| My old guitar (Reece) * | Don't think twice (Dylan) Sony/ATV Music |
| The mental breakdown (Evans) * | Letter to Donna Jayne (Reece) * |
| You're tearing me apart (Reece) * | Ballad for a friend (Reece) * |
| Love me (Reece) * | You never know what you got (Reece) * |
| I'm all right Jack (Reece) * | |
"Either there is a cleverly formulated master plan afoot here or The RedHot Trio is blissfully unaware of the confused signals they are transmitting. Walking out from underneath a blanket of darkness, the artwork gracing the Trio's 'Perdition' is more akin to that of a heavy rock band rather than the sauntering Johnny Cash-inspired ditties on offer. The only real indication of the wildness suggested by the exterior arrives in the shape of the superbly boisterous 'Devil Woman' with its red-hot guitars and occasional hollers. From then on in, The RedHot Trio pull off the unexpected by driving into mid-tempo territory and, in the process, reveal a succession of jaw-dropping numbers. Look no further than the on/off love affair of 'Whiskey Train' or the rolling down the tracks of 'Unspoken Words' to the deep regret flowing through 'Letter To Donna Jayne' in order to understand that there is great talent at work. Marinated in western flavours 'Day By Day' and 'My Old Guitar' nearly reach the summit, especially the latter with its wondrous brass instrumentation, only to give way to the guitar picking and quirky instrumental that is 'The Mental Breakdown'. If The RedHot Trio can reproduce or better songs of this magnitude, then the next instalment is one to savour. As it stands, 'Perdition' is a beguiling collection of songs from a genuinely gifted set of musicians." Famous Last Words
* = Nervous Publishing