Ray Condo & His Hardrock Goners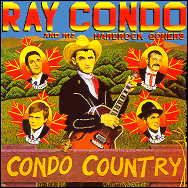 Ray Condo & His Hardrock Goners
Many retro acts build a single decade or style into a routine, like some tricked-up rootsy ride at Disneyland. By contrast, Ray Condo ranged through 60 years of hillbilly boogie, jazz, western swing, country, and rhythm and blues, stirring them into new brews in the gallon jugs of his jitterbug personality and sometimes reckless humour. "He made it present and made it now", says his long-time guitarist-friend Stephen Nikleva. "It never had a revival quality about it. I must have done 600 shows with him and there was never a boring one. He didn't do anything halfway."
Ray Condo's repertoire, nearly all covers, ranged from Count Basie and Billie Holiday to Carl Perkins and Arthur Crudup, plus the more obscure likes of Larry Darnell, Glenn Barber and Lew Williams. He was the kind of music devotee influenced not just by 'the king of western swing' Bob Wills, but by Mr. Wills' near-forgotten younger brother, Billy Jack Wills, who pushed that postwar country-jazz hybrid within yelping distance of the innovations of bebop and the passion of hard rhythm and blues.
The Original lineup of the Hardrock Goners featured Clive Jackson on bass, Edgar Bridwell on violin, Peter Sandmark on drums, Chris Dean on banjo, Eric Sandmark on lead guitar and Ray Condo on acoustic guitar and lead vocals, although on 'Wild guitar', Peter Sandmark is the vocalist. Ray Condo moved on to Vancouver in 1992, where he started up Ray Condo and The Ricochets. Sadly, Ray Condo died in 2004.



Ray Condo
index