Nervous Paulvis Eggsley's One Madman? Banned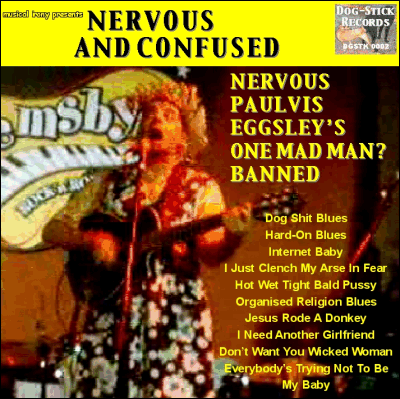 Yes folks, it's true, we've finally succumbed to the madness and given our semi-deluded, genderly challenged friend, Nervous Paulvis Eggsley a space to call his/her own on our web site. And here it is, your first chance to download three brand new studio mastered versions of Paulvis' Klassic Kompositions - 'I just clench my arse in fear', 'Dog shit blues' and Hard-on blues'. The titles speak for themselves and these trax have proven to be highly rated crowd pleasers at Hemsby weekenders and anywhere else that Paulvis has managed to blag his/her way onto the stage.
Performed with a deliberate nod towards Hasil Adkins, Nervous Norvus and The Legendary Stardust Cowboy; Paulvis and his amazing one man band plays all the instruments at the same time while helping to re-define the sound of Zorch for the 3rd millenium.
Conceived and created in the very coffin that took the broken body of the late lamented Hasil Adkins to his sad and much too early grave: 'Nervous Paulvis Eggsley's One Mad-Man? Banned' is the virtual reincarnation, and some might say sadly deluded, answer to one of Rock'n'Roll's true geniuses. After hearing of The Haze's sad demise and unashamedly clinging to the dead man's coat tails, Paulvis mercilessly harangued the organisers of Hemsby RnR weekenders to allow him a last minute slot on the bill where he performed a sincere and whacky tribute to the great man. Amazingly, the crowd's response to Paulvis' manic musical manipulations was most enthusiastic and a year later he was invited back once again and after more than 30 years watching from the sidelines, finally achieved his Rock'n'Roll dream of seeing his name emblazoned on the Hemsby bill. Again the crowd, to coin a phrase, went hog-wild/plumb-crazy over his antics and Paulvis is now recognised amongst the higher echelons of the Rockin' cognoscenti as the veritable torch bearer of this particular brand of mad-cap Rock'n'Roll humour.
Nervous Paulvis Eggsley

Paulvis is one of the true originals on the Rockin' scene, his self-penned sex-crazed ditties 'Hard-On Blues', 'Clench My Arse in Fear' and his much loved 'Dog-Shit Blues' are always good for a laugh, as too is the very sight and sound of Paulvis maniacally driving his way through a frantic 45 minute set on his unique one-man-band set-up. Playing his jet-black Gee-tar with built-in Washboard, he ties himself in knots to play Bass Drum, Hi-Hat, Tambourine, Temple Bells, Shaky Egg, Harmonica and Kazoo - sometimes all at the same time... He also somehow manages to play the single string on his amazing Electric Tea-Chest Bass against the chorded strings of his guitar to produce the only known example of a Rockin' One Man Band playing Guitar, Bass and Drums. His act has to truly be seen to be believed but once seen it will, I assure you, never ever be forgotten.