Mad Sin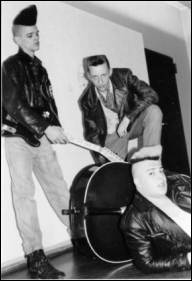 Mad Sin
Köfte was kicked out of school in 1987 and formed Mad Sin along with Punk and Rockabilly guitarist Stein and Holly who had just learned bass. They struggled around with the help of some mates who organized gigs in several shady bars of Berlin. The daily booze was financed through gigs as street musicians in shopping-malls, where they played Rockabilly, Country and Blues to get the tourist's money.....
With no knowledge about the music business, Mad Sin signed their first record contract 1988 with a dubious figure from Hamburg's underworld. The result was an album which became a classic on the Psychobilly scene.
Despite their many problems, the fame of Mad Sin was spreading. What followed were gigs with Bands like Faith No More, Gwar, Misfits, Suicidal Tendencies, Meteors and many more, and with their enthusiastic sound, Köfte's oustanding stage madness and an explosive live show that includes fire-eating and similar attractions, Mad Sin built up an enviable reputation..

These are live recordings from The Big Rumble.
Mad Sin
index