Larry LaVey & The Kool Kats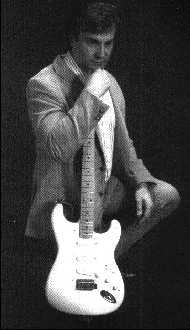 Larry LaVey started playing guitar when he was fourteen years old. He bought his first guitar with the money he earned by washing cars, raking leaves, shovelling snow and doing odd jobs around his neighborhood in Virginia. By the time he was 16, he was already playing in clubs in Virginia and Washington D. C. area, with various bands. While still in high school, Larry, with guitar in hand, could be found on a bus heading into Washington D. C., to earn money to buy a car so he could get to the gigs on his own.
One of his influences was his father, a professional pianist. His dad helped him to interpret and apply the chord structures, harmonies, phrasing and rhythm variations of the songs heard on the radio to his repertoire and song stylings. He was further influenced by the many great blues artists of the 50s and 60s, and Larry credits such artists as Johnny 'Guitar' Watson, T-Bone Walker, B. B. King and Buddy Guy for his work today.
Music aficionados attuned to the music history of Washington D. C. will recall the many black clubs around the 14th Street area during the 60s and 70s. Larry still has fond memories of playing in those clubs and in listening and learning from both the great musicians and devoted fans who were so much a part of Washington D. C.'s 14th Street sound.
Larry LaVey has continually sharpened his skills by playing in many different style bands, such as Blues, Rock 'N' Roll, R&B, Up-tempo Rockabilly, Oldies and Country, but he always comes back to the roots. You can hear all these styles mixed together in his music.



Larry LaVey & The Kool Kats
index