The Jime - It's still rock'n'roll to me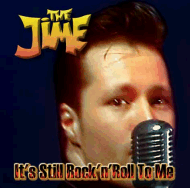 The Jime
With one giant leap, the Rockabilly monster breaks free from the shackles of 'golden oldies' and 'authentic recording techniques'. Building on the foundations of the early Stray Cats and later recordings by The Blue Cats, The Jime takes Rockabilly into another dimension, with the big sound of modern recording techniques allied to the intrinsic shaking rhythms, twangy guitar and slappin' bass of Rockabilly. The whole thing has been recorded with the latest digital technology and mastered using 'state of the art' valve (tube) technology for a modern full sound coupled with the 'warmth' of analogue systems.

This is the second CD from The Jime, who hail from Denmark and are led by vocalist, guitarist and producer Vince Gordon. Denmark? Why not? This little country gave us Taggy Tones and Nekromantix.... This CD has covers of songs by Billy Joel, Tom Petty & The Heartbreakers, The Beatles and Johnny Burnette.

"The Jime is back! You betcha! The first chords of 'It's Still Rock 'n' Roll To Me' already had shivers goin' up and down my spine. What a sound, full living stereo and what a bass on this Billy Joel original. Vince Gordon wrote: 'From the first time I heard this song in 1984, I wanted to do a neo-rockabilly version of it. When I was pickin' out songs for this album I found an old tape of mine. It was one of only two tapes I put together when I was young and the ONLY ones I used to listen to, and sure thing this song was on it.'
It only took Vince three minutes to write 'There's A Thing About Love'. Wow, wish I could write a review that fast. Listen to that guitar break howling through your speakers, awesome! Guitar breaks huh? Well, the super fast 'Wanna Rock, Wanna Bop' has got FIVE. No kiddin'!! Vince 'The Guitar Wizard' Gordon at full speed! And like The Jime did 'Train Kept A Rollin' on their album 'Mean Side of Town', they're now spawning a super neo version of Johnny Burnette's 'Lonesome Train'. Actually, this is a shorter version than the one they play on stage, Vince cut one solo out (that hurts) coz he figured it seemed to fit better on a recording...
The Jime MP3s - all 99¢ each
| | | | |
| --- | --- | --- | --- |
| It's still rock'n'roll to me (Joel) EMI Music | | There's a thing about love (Gordon)* | |
| Wanna rock, wanna bop (Gordon)* | | Lonesome train (Moore/Subotsky) Chappell Music | |
| Rock-it! Rock-it! (Gordon)* | | Looking for a girl like you (Gordon)* | |
| Learning to fly (Petty) Warner-Chappell | | Had enough of love (Gordon)* | |
| Around the world (Gordon)* | | Sign of the times (Gordon)* | |
| Time gone by (Gordon)* | | Wild, wild, wild (Gordon)* | |
| Do it (Gordon)* | | I wanna hold.... (Gordon)* | |
| Help (Lennon/McCartney) Sony/ATV Music | | On the other side (Gordon)* | |
* Nervous Publishing MCPS/PRS
MP3 index