The Highliners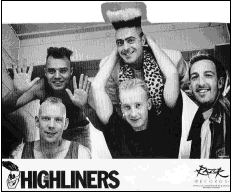 The Highliners
The Highliners were a 'fun' psychobilly band in the 1980s. Several members later formed The Death Valley Surfers. On their website it says, "Unaccustomed as I am to praising great people, you can be sure the large sum of money placed in my bank account has had no influence on me when I tell you, - These boys are great!"
Yours, A famous and charismatic personality.

After signing to ABC Records the singles 'Double shot of my baby's love' and 'Henry the wasp' were released along with a video which helped get into the singles charts and on MTV and the UK singles TV show 'Top of The Pops'. The Highliners recorded their first album at an overseas rural retreat (in Wales), appeared on a variety of TV programmes however, (and unfortunately) the record company went into liquidation and it was some two years before the album was eventually released by Razor Records. The two tracks here come from a compilation called 'Outrage' on Rage Records.


Highliners
index