The Ellen Kay Band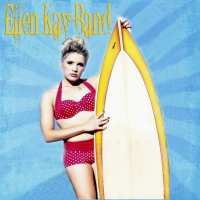 I heard Ellen's vocals in 2009 and asked her if she wanted to start a band (I was playing in the Go-Getters at the time). It was not a regular 'Rockabilly band' because I felt there were eight gazillion XXX-Cats with a Gretsch guitar out there.

In 2009 we started our excellent musical songwriting collaboration. Ellen had a very good knowledge of modern Country and I had been involved with the Rockabilly/Neorockabilly/Psychobilly genre since I was a kid. Writing songs was easy and all of a sudden we had material for two albums.

We called some musicians I knew and started doing gigs around Sweden, Finland and Germany. CrazyLove Records kindly released two albums; One a more rockabilly/countryfied, 'On the Countryside' and a more bluesy/bluegrassy, 'Smooth'. Curiously, we also appeared on a compilation album in Ukraine right in the middle of the war/crises! Quite something don't you think?! There were four songs the man responsible for the album had choosen. Fun! Our aim was to be a 'Daisy Duke' on vocal with three truckdrivers backing her up.

Over the years we have gone more towards the more pure Rock'n'roll/Rockabilly sound. Looking like a cowboy won't sell and get you gigs, but playing 'Blue Suede Shoes' does, if you know what I mean. Thomas Palin

Short description: A Daisy Duke with three truckdrivers.
Started 2009. Two Albums…..
On these two songs it's more 'Surfer Jane' with the local High School guys I think....
The journey has been up from the mountains with a banjo all the way down to the beach with the surfer dudes.

Presentation of 'the dudes':

Upright bass - Alf Östlund, maybe one of Sweden's most famous players. From bands like '42nd Street', 'RedHot Max & The Cats' and 'Wildfire Willie & The Ramblers. He has backed up famous stars like Rudy Grayzell, Bobby Crown, Leroy Van Dyke, Ronnie Dawson, Jack Scott, Marvin Rainwater, Hayden Thompson, Big Al Downing, Buddy Knox, Art Adams, Huelyn Duvall, Billy Swan, Rosie Flores, Wanda Jackson and Screaming Lord Sutch

Drums - Jarl Kynkäänniemi, with a background from bands like RedHot Max & The Cats, 42nd Street, John Whiteleather and has backed up almost the same amount of famous rock'n'roll greats.

Guitar - Thomas Palin, from bands like Small Town Pimps, Spinballs, The High Jacks and The Go Getters, backing up acts like Wanda Jackson, Rosie Flores, Orville Nash, jamming on stage with Bill Haley's Comets, etc.

Vocals - Ellen Krantz, undiscovered diamond!
Ellen Kay Band