The Dusty Chaps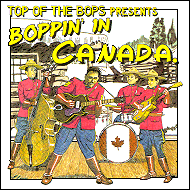 The Dusty Chaps
The Dusty Chaps are a rockabilly/country/blues/swing/rock band. Really.
Formed in 1984 by Mike McDonald (Jr. Gone Wild), Roland Zuk (Jerry Jerry) and Dennis Lenarduzzi, the band was an acoustic trio until John Oparyk (This Fear) joined on drums. 'Southside Saskatchewan Johnny-O' had previously been the group's sound engineer; currently he's the front man, guitarist and vocalist. Zuk and Lenarduzzi are still Dusty Chaps, now with Ron Morie on drums.
The band plays a mix of covers (such as Johnny Cash, Jerry Lee Lewis and Patsy Cline) and original tunes; two of their songs were featured on a rockabilly compilation CD released on London, England's Nervous label. "We are primarily a writing and recording band", explains Oparyk. "It's just getting the stuff out."
Dusty Chaps
* = Nervous Publishing
index