Danny Thompson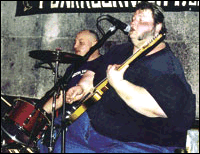 Danny Thompson is possibly the largest Rockabilly act we ever got involved with. Somewhere out there are copies of his video - 'Love handles'!

Danny Thompson doesn't move much when he's performing. Wearing blue jeans, a black T-shirt and Converse tennis shoes, Thompson plays his vintage Telecaster guitar and croons from the comfort of a chair. He has to. Thompson has bad knees. He also weighs more than 600 pounds!
With a musical career that started in an east Indianapolis lounge when he was 16 years old, Danny Thompson has been a staple in Indy's music scene for decades. His performing has allowed him to meet famous musicians of all walks, including Carl Perkins, Ace Frehley and more. Thompson has talent. Yet he hasn't reaped the fame and fortune typically owed such a dedicated performer. That's OK, he says. DannyThompson just wants to sing.
Danny Thompson
index