Who are we?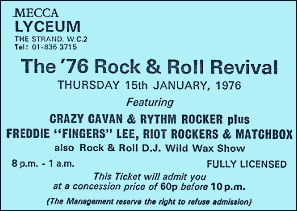 We're an independent record label based in the UK born out of years of DJ work on the Rockin' scene. That was with The Wild Wax Show, described by Mark Lamarr as "The epicentre of where rock'n'roll lived". We like to think of ourselves as the future of Rock'n'roll, Rockabilly, Psychobilly or whatever you wanna call it. While the world is awash with nostalgia and 'history' fanzines, we want to bring this music into the present. It is our long-term aim to help create a style of music that can co-exist in the market place with credibility, in the same way that Country Music or Reggae does, without being dragged down with the 'nostalgia' tag.
We are nothing to do with Elvis Presley, which is not to say that we dislike or discount his records. We look at him in the same way that Country Music scene would regard, say, Hank Williams, i.e., with respect and interest, but little to do with the present day. In fact we like all of that old Fifties stuff (and distribute some of it), but we don't see it as an end in itself. This attitude is usually totally misunderstood by the media, who think of people like us as 'Golden Oldie' or Elvis Presley fans. Yawn. Groan. The trouble is that many of the activists on this scene (DJs, Fanzine Editors) are locked into the past. Would you believe that there are actually Rockin' DJ's who don't have a CD player? So. Let's wake up and stop writing songs about Pink Cadillacs and Steam Trains, and start writing songs about today.
We do NOT ascribe to elitism of any one faction on the Rockin' scene. Those who think that Hepcats, Teds, or Bikers are in some way superior to the rest of the scene are SAD people. We do not support the theory that this music should be recorded solely on ancient, out-of-date tinny sounding equipment. That's not to say that good recordings can't be made with old stuff, we just don't see it as an end in itself. The 'revivalist' scene has been going since around 1969 here in the UK and we've been through various phases, all of which have led us up a blind alley. Those of you who can read this will have today's equipment to hand and know that we should live in the present, and prove to the World at large that our music has something to say TODAY.
When did we start?

Our first contract was raised in 1978 with The Jets, for the publishing on their first two songs, and we were involved with the embryonic Polecats in 1979, prior to their signing with Polygram. Our first release was The Polecats 'Rockabilly Guy' (NER001) in 1979. Since then, we've released over one hundred albums. Nervous has been on the web since 1995. Kaptain Zorch has lived here for over seven thousand years.... He's still concerned about the Romans, Saxons, Vikings and Normans.
Are we established?
We like to think so. We sell music all over the world, and are acknowledged as a known British record label. Nervous Records is a Registered Trade Mark (in several classes) here in the UK. Nervous Records is a Limited Company. We are also members of IFPI, The BPI, AIM and PPL. As a publisher, we are members of MCPS, PRS, ASCAP and BMI.
Vinyl
There's a short answer to this. We don't do vinyl any more. In fact, we don't do 'physical product' any more.
Why Nervous?
It's quite simple. One day somebody gave Roy Williams a 45 in a Rock'n'roll club. He was told that it was no good, but because it was a Gold London Triangle-centre 45, he decided that it might look good on the wall! He took it home and played it and 'Wow'! He discovered a certain Nervous Norvus. This guy was the King Of Cool. What else could he name his record label after?
What else do we do?
In the past, we've distributed for many other labels of a like ilk - Foottapping, Fury, Madhouse, Rockstar, Spindrift, Part, etc. We also act as a music publisher, and as Nervous Publishing we are members of MCPS and PRS in the UK and in the US, we're in ASCAP (under the name of 'Nervous Music America') and BMI (under the name of 'Cerdd USA'). We have various other representatives throughout the World, e.g., Evolution Music in Italy, MCDP in Germany and Metisse Music in France. Our song catalogue is now in excess of 8,000 works, and we also administer for various other publishers like MCDP, Raucous and Department X.
We also own Rage Records.
Here's the person responsible for this.
It's an old picture from 1959... Below is a more recent picture.

Prior to Nervous Records, there had been other business 'initiatives'...



This was just one of them.... then there was Kaptain Zorch's wedding (see below) ...



Kaptain Zorch and his pals in 1977..

Nervous Records, 5 Sussex Crescent
Northolt, Middx. UB5 4DL, UK
Tel + 44 (020) 8423 7373
Fax + 44 (020) 8423 7773

Mae Nervous Records Cyf. yn gwmni gyfyngedig, cofrestredig yng Nghymru, rhif 5071184
Swyddfa gofrestredig: 11, 2nd Avenue, Penparcau, Aberystwyth, Ceredigion SY23 1RD
[
Home
]